Neon Blue (suspense) and This Shoal of Space (SF) by John Argo were the first two e-books ever published online for download, in the history of the world, 1996-7 in innovative weekly serial chapters. More info at the museum pages. If you enjoy this free read, which is offered in the spirit of the Golden Age of the World Wide Web, please consider buying a print or e-book edition as a way of thanking the author. A fine E-book is typically priced at the cost of a latte, yet offers many more hours of enjoyment than a cup of coffee. Thank you (John Argo).
---
About/Preface Chapter 1 2 3 4 5 6 7 8 9 10 11 12 13 14 15 16 17 18
19 20 21 22 23 24 25 26 27 28 29 30 31 32 33 34 35 36 37 38 39 40
41 42 43 44 45 46 47 48 49 50 51 52 53 54 55 56 57 58 59 60 61
---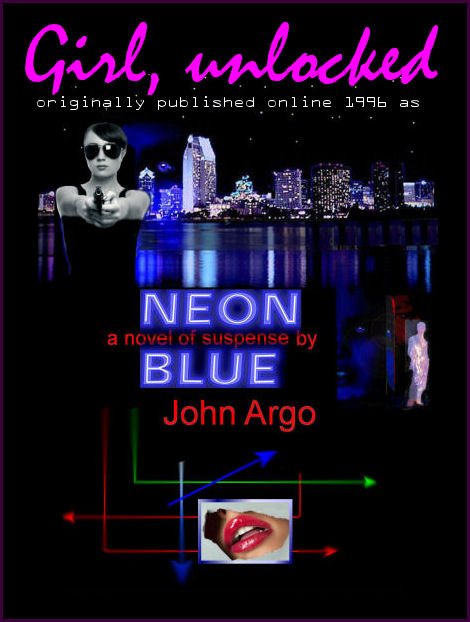 Hugh Stone was disconcerted. Bill Garth showed up unexpectedly at Stone Electronics instead of arranging a discreet meeting. Things were out of control, and Hugh didn't like it. Because he needed the money so badly, he decided not to berate Garth. No sense making more waves in an already shaky situation. The clock was ticking, and LeSable needed his money. Hugh sensed that Vincent was getting cold feet, and that scared Hugh.
Garth was a big blond man. Sitting on the couch opposite Hugh's desk, he shifted his martial arts-honed frame forward and looked at the check for $5000 Hugh had written him, over and above the $75,000 LeSable had already paid him for the Guzman hit. Garth's rugged features brightened. He had a full, low voice that growled like a big engine. "Money talks, Mr. Stone. This says it all. Thanks for the bonus."
Stone smiled coldly. "I thought it would serve as a nice introduction. I think you see exactly where I am coming from."
Garth looked up, honestly flattered. "I've never seen this kind of shall we say friendliness before."
Hugh dropped a pencil he had been holding. "Garth, I admire your skill and your strength. You are a very intelligent man." Garth was eating it up. "Did anybody see you waste Guzman?"
Garth was momentarily troubled. "A young woman cop. Why?"
Hugh sighed. "It's the matter of control. We like to know all of our factors. Do you think she would recognize you again?"
"Maybe. I could finish her off fast enough. Little dark-haired butch type, cute as a button though. Her name is Laurel Humboldt."
"Did you learn that from our source in Manhattan?"
"Sure. Why call attention to ourselves. Wasting a DEA type would only draw more heat. I can kill her any time we want."
"Smart thinking," Hugh said. He briefed Garth about Vincent Brady, without revealing his own desperation. "Somewhere in San Diego, Brady has a house. When he's not playing priest in Hamilton, he goes to San Diego and lives a life of sin."
"And fun," Garth said grinning.
"And fun. I want you to go to San Diego, find Brady's place, and stake it out. If he tries to run out on me, that's the first place he'll go. I'll send someone else to Hamilton." He added: "If we lose him, Garth, our whole show is gone."
Next morning at nine, Roger Filmore was ushered into Hugh's office. Filmore accepted coffee and a donut. He was a trim man of fifty, with short gray hair and a nice face. He looked as though he had just stepped out of a golf course shower after an easy four or five holes.
Preppy. That was Roger Filmore. Wingtips, dark slacks, red sweater, white shirt open at the collar. Filmore had been a high school principal in Oregon until fired and convicted for fondling a student. He had sold real estate later, made and lost a fortune. After his wife's death (from unhappiness?) he had moved to Del Mar, California, where he'd gotten involved in LeSable's organization and found the easy money of crime worth the risks.
Filmore raised his eyebrows and smiled. "I'm so happy to see you come aboard and take charge. We're creating a businesslike organization, and I like that."
"Thanks, Roger. I want you to head East. Little town called Hamilton, Connecticut. One of my sources of funds called me up and started to sound wishy-washy. I wonder if you could visit him and just introduce yourself. Remind him that our organization can get to him, no matter where he is."
"Fine," Filmore smiled. "I like that. The other type of organization would have sent Garth."
Hugh said: "The guy's name is Vincent Brady, but he goes by Gordon. Be subtle with this bird. Don't be rough. Just let him know he promised us money, and he won't get away from us."
Copyright © 1996 by John Argo, Clocktower Books. All Rights Reserved.