Neon Blue (suspense) and This Shoal of Space (SF) by John Argo were the first two e-books ever published online for download, in the history of the world, 1996-7 in innovative weekly serial chapters. More info at the museum pages. If you enjoy this free read, which is offered in the spirit of the Golden Age of the World Wide Web, please consider buying a print or e-book edition as a way of thanking the author. A fine E-book is typically priced at the cost of a latte, yet offers many more hours of enjoyment than a cup of coffee. Thank you (John Argo).
---
About/Preface Chapter 1 2 3 4 5 6 7 8 9 10 11 12 13 14 15 16 17 18
19 20 21 22 23 24 25 26 27 28 29 30 31 32 33 34 35 36 37 38 39 40
41 42 43 44 45 46 47 48 49 50 51 52 53 54 55 56 57 58 59 60 61
---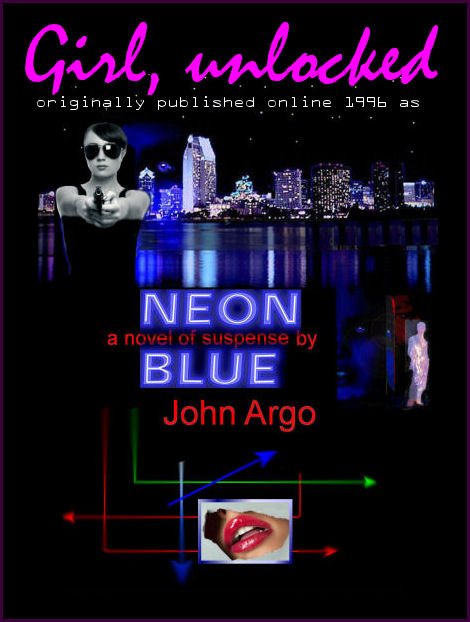 Soft rock music and the aromas of bacon and coffee awakened Blue. She groaned and rolled over in bed, remembering where she was. The curtain was open, but the sliding glass door was closed. The patio was enveloped in a thick fog, and the wood floor was steeped in colorless solemnity. "I hear you," John Connor said offering a glass of orange juice. "Breakfast in bed, coming up."
She sat up. "That's nice." He kissed her, and she sipped. "Last night was wonderful."
"Yeah. Hold on, I'll bring breakfast." He did, and she chewed salty, crispy bacon. He ate from a plate in his lap. She sat with her feet on his knee and felt very comfortable.
"If you came to San Diego to live, you could stay here."
She nearly choked on her coffee. "You think you could tolerate me for a few weeks?"
"I could always send you to the Hilton."
"I'd be fifty before DEA transfers me here."
He was about to open his mouth to say something, when the phone rang. It was Barnes, for her. "Humboldt?"
"Yes. How did you know I'd be here?"
"A wild guess," he said dryly. "I need you right away, you and Yee. It seems our bird has flown the coop."
"Who?"
"The woman in the hospital."
"No. I thought she was on IV's and all."
"The IV's came out yesterday. She ate a pudding about six a.m. The officer outside the room says everything was okay until the nurse went in with medication at seven. The bed was empty."
"She walked right past her guard?"
"U-huh. The man looked up and even said hello to her. Beautiful tall dark-haired woman, he said, dressed to kill. He never made the connection. There was a man with her, dressed in a dark gray business suit, very conservative."
"Got a description?"
"Yes. We'll start at the hospital and work from there."
Blue handed Connor the phone. "Gotta run." She found her clothes and changed in the bathroom. He saw her to the door. She wrapped herself tightly around him. "Don't you go away, okay? Or what is it they say? Hang on to that thought."
It was a five minute drive to UCSD Medical Center in Hillcrest. Barnes wasn't there yet, but Martha Yee was, dressed in a white summer skirt and pastel blouse. The fog thinned, and sunshine began to slash the haze. Barnes's car pulled to a screeching halt at a forbidden red curb. Out of the car, jacket flapping, he waved them along with him. "The lobby is full of reporters, I'm told. Pretend we're visitors for some patient."
"Was the man with her the Slasher?" Blue ventured.
"First thing I wondered," Barnes said over his shoulder. "Not if the Slasher and Silverstone are the same person. Silverstone is in his late fifties. This guy was a tall, good-looking guy in his late thirties. Pampered. Ivy League, certainly had breeding. Money. That fits with the lady."
They entered the University of California, San Diego Medical Center, a cluster of buildings located against a deep leafy canyon. A Life Flight helicopter was just taking off from the helipad on some errand of mercy. The corridors were austere and labyrinthine. Barnes seemed to know his way around. They emerged on 5 West, the General Surgery Ward, and bypassed the nurses' station. Uniformed officers kept reporters away. The three detectives had to show badges. There was still an empty chair in front of the single room where Madame X's guard had sat. The bed had a slept-in look, nothing out of the ordinary. "No signs of struggle, nothing," the uniformed officer told them. "Some guy, somebody she knew and trusted, came and got her. She dressed in clothes he must have brought, and off they went."
"Must have been a man who knew her well enough to know her clothing sizes," Barnes said.
"Yes," Martha said. "Maybe her husband? Boyfriend?"
They took the elevator down and stood looking on the ER platform. "That sure is a big wide world out there," Barnes remarked with a forlorn look.
Copyright © 1996 by John Argo, Clocktower Books. All Rights Reserved.