Neon Blue (suspense) and This Shoal of Space (SF) by John Argo were the first two e-books ever published online for download, in the history of the world, 1996-7 in innovative weekly serial chapters. More info at the museum pages. If you enjoy this free read, which is offered in the spirit of the Golden Age of the World Wide Web, please consider buying a print or e-book edition as a way of thanking the author. A fine E-book is typically priced at the cost of a latte, yet offers many more hours of enjoyment than a cup of coffee. Thank you (John Argo).
---
About/Preface Chapter 1 2 3 4 5 6 7 8 9 10 11 12 13 14 15 16 17 18
19 20 21 22 23 24 25 26 27 28 29 30 31 32 33 34 35 36 37 38 39 40
41 42 43 44 45 46 47 48 49 50 51 52 53 54 55 56 57 58 59 60 61
---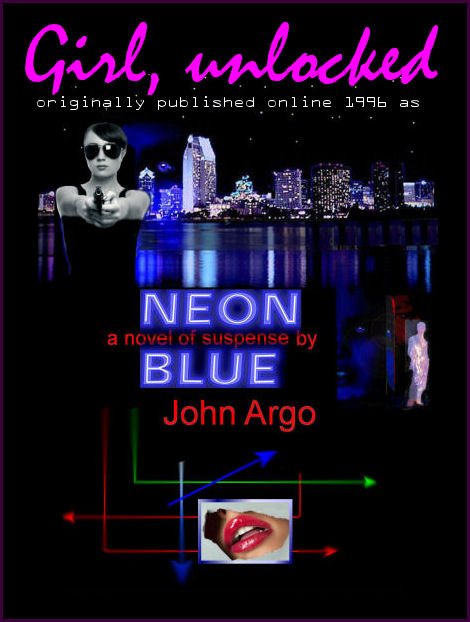 Tomasi called early in the morning.
Blue sat on the bed amid styro plates left over from their breakfast. John Connor lay behind her stroking her back gently, and she rubbed his leg.
Tomasi told her: "Once we fed the name Hugh Stone into the system, things got hot. INS worked all night. A German citizen named Hugo Stein, wife, and child were admitted into the USA in 1965. They became citizens. He anglicized his name to Hugh Stone. Made millions in electronics. Everything matches the occupants of the villa in Palm Springs. INS checked with Interpol in Paris. Wouldn't you know it, there was a Hugo Stein in Marseilles wanted in connection with a slashing murder in 1955. Seems he was working with the local equivalent of the Mob at the time. He was a German kid who lost his parents during the war and drifted into crime. His factory has gone belly-up. I'm afraid he's drifting again and we'd like to know where."
"Where does that leave us?"
"Never mind. I want you off this case. Go to San Diego and have yourself a vacation. Stay out of harm's way."
She and John stood in the airport in line for boarding passes to San Diego. She suddenly spotted a queue in the next line over headed for Palm Springs. "John," she said, "maybe I can apprehend the creature who murdered Eddie Stosik."
"No," John said. "Oh Blue, please, no…"
She kissed him and told him she loved him. "Right now, all I can see is Innie and those three little kids…"
Copyright © 1996 by John Argo, Clocktower Books. All Rights Reserved.