Neon Blue (suspense) and This Shoal of Space (SF) by John Argo were the first two e-books ever published online for download, in the history of the world, 1996-7 in innovative weekly serial chapters. More info at the museum pages. If you enjoy this free read, which is offered in the spirit of the Golden Age of the World Wide Web, please consider buying a print or e-book edition as a way of thanking the author. A fine E-book is typically priced at the cost of a latte, yet offers many more hours of enjoyment than a cup of coffee. Thank you (John Argo).
---
About/Preface Chapter 1 2 3 4 5 6 7 8 9 10 11 12 13 14 15 16 17 18
19 20 21 22 23 24 25 26 27 28 29 30 31 32 33 34 35 36 37 38 39 40
41 42 43 44 45 46 47 48 49 50 51 52 53 54 55 56 57 58 59 60 61
---
Chapter 28. Burlington, Vermont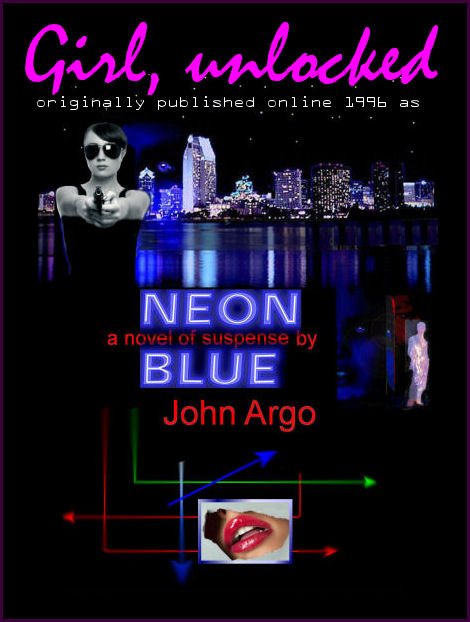 Vincent, relaxing in his hot tub in Burlington, raised a whiskey to honor the late Monsignor Gordon. Gone was the pressure of Hugh hounding him. The matter of Filmore—well, the man might have killed him, and he'd killed Filmore by accident, so that was nothing to fret about. The Angel of Death, now that was another matter, and it roiled deeply in his mind; he must keep evading HER. Then his thoughts turned to the desirable Jana Andrews. He imagined her beside him in nubile magnificence, and dialed her number in Chicago.
"Hi there, lover." Her voice was husky and inviting.
He squirmed in his tub. "Ooh, you make me want to reach out and squeeze your toe."
"Are you into toes, Vincent?"
"I'm into toes, fingers, arms, as long as it's Jana Andrews, I'm into it. How are you, doll?"
"Ahh…lonely…bored."
"Would you like to meet me in sunny Southern California for a nice relaxing weekend? You won't be bored or lonely."
"You're on, hot guy!"
In two hops, Vincent went to Boston, then New York City. The pilot announced that it was a bright, cold, sunny day in Manhattan. Vincent was in a good humor. In The Boston Globe was a blip about a body found in a burning car in Vermont.
Vincent took a commuter helicopter from JFK to a skyscraper, where he ate a light meal. Then, in an office supply store, he rented a computer and a modem. Then he took a hotel room in midtown Manhattan and got to work. One by one, he wrote checks against his various accounts—Citibank, Bank of America, First Federal, and so on—and prepared them for mailing to Mercantile First Bank of Chicago where he had an account under the name Vincent Ulric. Using the computer, he dollied up twenty different letterheads, with company names like Graphics International, InnoForm, Investments Parsis, and so on. He had them printed on a quality laser printer, then enclosed them in the letters. He would not empty any of his twenty accounts. Instead, he transferred a total of just over $3,000,000 to the CompuGraphiX USA account, leaving over half a million spread around. He mailed the letters by registered mail from Manhattan.
He arrived in Chicago just after nightfall.
He took a hotel room, sent up for dinner—Filet Mignon with mushroom caps, boiled salted new potatoes, carrots in parsley, and a chocolate pudding. He sent out for Charles Martel brandy and a box of fine cigars. Then he watched cable movies until the brandy sent him under.
The following day, he went to Chicago Shoreline Savings and Loan and extracted the contents of a small strong box. There were a few negligible items, such as a gold watch and a gold bracelet, both of which he planned to give to darling Jana. Most importantly, he had Vincent Ulric's social security number. On a previous visit, Vincent had spent an entire morning and part of an afternoon at the Motor Vehicles Department, obtaining a picture driver's license that he'd kept in safety deposit like a treasure. He called First Mercantile Bank of Chicago late that afternoon, introduced himself as the President of CompuGraphiX USA, and requested an interview.
At ten o'clock Thursday morning, dressed in a brand-new dark business suit of conservative cut, he was ushered into the office of a Vice President named Charles Graham, a youngish black man. Graham pumped his hand eagerly. "Mr. Ulric, what a pleasure. Will you have tea or coffee?"
"Tea, if you don't mind."
A silver tea service arrived, complete with steaming teapot, china cups and saucers, china sugar and cream containers, a china pot of sliced lemons, pastries, and finger sandwiches. "I understand your company is expanding to Chicago," Graham said.
Vincent buttered a croissant, laid salami and Edam between its buttery flaky halves. "Yes. We expect to transfer funds from our subsidiaries and from other interested parties soon."
"Computer business, is it?" Graham boomed, buttering a crumpet. "Lucrative. I could move in that direction."
"A good way to go, Mr. Graham. What we need are good managers. Such opportunities will exist in the future. Well, I should toddle on."
"Most assuredly," Mr. Graham said, licking butter from his thumb. "What sort of dollar volume are we talking initially?"
"Well," Vincent hazarded, "we're only getting started, of course, but I am already negotiating an order around five million dollars for our integrated circuits. We'll be introducing a line of preprogrammed chips later, and that gets into tens of millions."
Graham gulped.
"Then there are government contracts. I'd say we're looking at a break-even this year and a profit margin approaching two million next year."
Graham swallowed hard.
Satisfied with himself, Vincent had a steak dinner and took an evening flight to San Diego.
Joanna MacIvory, listed in the passenger manifest as Jana Andrews, boarded the commuter flight to San Diego. Munching orange slices, she idly flipped through the morning newspaper.
And caught.
And nearly choked.
"San Diego Murder Victim Identified as Connecticut Priest," the headline read. She broke into tears, reading the article. "No," she cried, "noooo!"
When she arrived in San Diego, Rae Donovan and Virgie DeSanto picked her up at the airport. She buried her face in Rae's lap, and Rae's rough, callused hands patted her. "My God, Joanna, what's wrong?"
"It's not going to go the way we planned it," Joanna blubbered. "My brother! He's dead! That son of a bitch killed him."
Rae, blonde strongwoman, held Joanna's face in her hands like some mask. "What do you mean?"
She told them about Joe, and dissolved in tears again.
Virgie DeSanto, driving, looked shocked. Her pillbox hat tilted rakish on her forehead. "Jesus, no."
Joanna said calmly: "Forget this charade. I am going to kill him."
"No," both women said. "Please, Joanna, think what you're doing. Think about Doug."
Ah to spend a delicious weekend with Jana Andrews!
Vincent had readied everything. Drinks, fireplace, clean sliding glass door leading out onto beach sand at $4000 per square foot overlooking La Jolla Shores. Sunken marble tub, jacuzzi, pool, squash court, the works. She would stay with him to share all this. As he fixed himself another drink he heard the doorbell.
Through the aperture he spied Jana's upper face. "You're early, darling," he chimed. "Wait, I'll open right up." The key, where was the key?
The doorbell rang again.
Vincent searched for the key. "Hold on, darling!"
The doorbell chimed incessantly.
"Jana Darling, I'll be right there!" He opened the door, holding a drink in his hand, and rocking slightly on the balls of his feet. He was in a euphoric haze, but his joy fizzled.
She fixed malevolent eyes on him. She showed her teeth. "You killed him!" Her voice had a fierce, unearthly quality. "You rotten bastard! You goddamn shit!" With that, she lunged at him with a knife.
He dropped his drink and fell backward.
The knife caught on his sleeve, stung his skin. Jana's breath was in his face, and she was grunting like an animal. Her foot caught him in the gut, and he doubled over. "You murdered my brother!"
Vincent was sure now that Jana was a madwoman. She raised the knife in both hands to strike at him. He saw her twisted mouth, her vicious eyes. Desperately, he clawed her face. The knife came down without force. He punched repeatedly, bringing her to the ground inside the tiled entrance. At last, she was still. Breathing heavily, he took the knife and plunged it into her heart. Then, dulled by drink, panicked, sobbing, he gathered his things from around the house. The Angel of Death stood there smiling. Now you've done it, Vincent, I always said you're bad.
"I didn't mean to," he whined. "I'm just trying to be good. I don't want to hurt anybody. She attacked me, Mother, honest. It was just like you and Daddy. You were just trying to protect yourself, weren't you?" He crawled about, slobbering, getting his things. "It was just like that, Mother, I was just trying to protect myself. She came at me. Oh God, she came at me with a knife. I hate her! I hate you!"
Copyright © 1996 by John Argo, Clocktower Books. All Rights Reserved.