Neon Blue (suspense) and This Shoal of Space (SF) by John Argo were the first two e-books ever published online for download, in the history of the world, 1996-7 in innovative weekly serial chapters. More info at the museum pages. If you enjoy this free read, which is offered in the spirit of the Golden Age of the World Wide Web, please consider buying a print or e-book edition as a way of thanking the author. A fine E-book is typically priced at the cost of a latte, yet offers many more hours of enjoyment than a cup of coffee. Thank you (John Argo).
---
About/Preface Chapter 1 2 3 4 5 6 7 8 9 10 11 12 13 14 15 16 17 18
19 20 21 22 23 24 25 26 27 28 29 30 31 32 33 34 35 36 37 38 39 40
41 42 43 44 45 46 47 48 49 50 51 52 53 54 55 56 57 58 59 60 61
---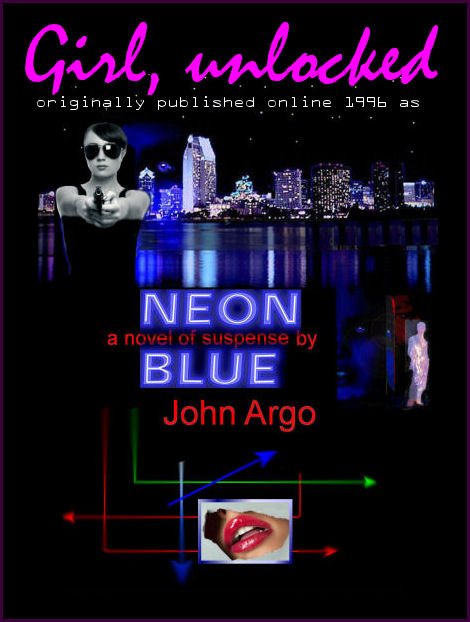 On the flight back to San Diego, Blue reflected that Tomasi had been right. She should enjoy a little vacation with John Connor. Pursue the really important thing in her life.
The plane got into San Diego, and she took a taxi to John's house. No Porsche. Not home. Still at the store, of course. She paid the cabbie, tipping him two bucks. She let herself into John's house. Turned on the stereo. Fontainebleau came up out of the canyon and rubbed against her leg. She couldn't wait for Johnno to come home tonight. She fed the cat and debated calling the store, deciding against it. Didn't want to alarm John about what she'd been through at Hugh Stone's place. So she pulled a beer from the fridge and decided to go out and watch the lights from the back canyon. It was quiet on the canyon. Distant freeway noise barely reached her. She popped the beer and sat back.
Then Tomasi called. "I thought I'd catch you here, after all else failed. Father Binder says there is no Father Jenkins. Chief Murphy as his secretary identified the recorded voice as belonging to our slasher. You'd better watch yourself. He's probably after YOU, thinks you can tell him where Gordon is. Stay put where you are. Oh, by the way, you weren't in Palm—"
Blue hung up and dialed Ajanian's but there was no answer. Frantically, she dialed 911. "I'm sorry," the operator said, "we can't just send—" She dropped the phone, left it lying on the floor as she raced outside. Found a car, hot wired it, and ran every light on her way to the mall.
Father Jenkins told John: "I represent the Church. I was told Miss Humboldt would meet you here, and I thought I would bypass the police, the paperwork and the awkward questions, and speak with her off the record."
"Who told you she would meet me here at this hour?"
Jerkiness' eyes glittered like topaz as he kept pace with John. John stepped back, Jenkins stepped forward. "Mr. Connor, come now. I want to find Vincent and recover the stolen money."
Blue pressed her foot to the pedal. The stolen car flew along the night-time freeways. Wind whipped through her hair from the open window. Horns blared as weaved through traffic. Hoping to pick up a cop. TIP, anyone. Come on, where are you guys? Blare! Another slow car in her way. Holding the wheel with her forearms she checked the clip in her 9 mm automatic.
John, backing away, recognized the faint accent. This was no priest. "Miss Humboldt won't be coming here. You'll have to call in the morning."
"Nothing!" Hugh Stone raved. "No morning. Tonight!" He grasped John's lapels. His voice was smooth and cold. "I mean no harm. I need to speak with your girlfriend. You know who I am, don't you? Where is she?" John shoved him away, but Stone closed the gap just as quickly. "I need to speak with her," Stone insisted. "Brady has my money."
"Nobody knows where Brady is, Mr. Stone. The police are looking for him."
Hugh Stone had a black object in one hand. "I have something for you, Mr. Connor, if you choose not to talk." His smile glittered. "Tell me right now where your little Laurel is. You'd be very smart if you did that. Or else you'll be blind for life." He held up a black gun. "This water pistol has a powerful acid solution in it." He stepped closer, revealing the famed razor. "In my other hand, I have the means to make you into a most ugly man. Think about it. You're used to women swooning over you. Think how it would be if not only you were blind, but people went out of their way to avoid you because of the slashes on your face. What do you say, Mr. Connor?"
Still no cop. Blue screeched down the exit ramp, fishtailing the car, then righting it. A red light. Truck. She cut him off, accelerating. Blare…as he jammed on his air brakes and all thousand wheels smoked. She raced, sixty, seventy, eighty, down the long empty street. The parking lots were empty. The mall was closed. Johnno was in there ALONE with HIM. Frantically, she searched for an entrance. Drove through the parking lot. Under the building. Dead end.
John stared into the nozzle of a metallic-looking water pistol. Too late he caught on and raised a protecting hand.
"I thought of this little surprise especially for you," Hugh said, "as a thanks for all the trouble you and your friends have caused me." Once, twice, Hugh's finger squeezed. A searing, blinding fire splashed into John's eyes. He cried out and squeezed his eyes.
"Hydrochloric acid," Hugh Stone said calmly. "A dilute mixture, strong enough to blind you if you don't get water to wash it away. You'll be blind and disfigured when I am done with you. Where is Laurel Humboldt?"
"I don't know!" John cried. He was sightless in his left eye, and his right eye saw everything double. He saw Hugh Stone's eyes staring into his, four of them, blurry.
"Talk and you'll have water to wash your eyes out. No? I don't have time for this. I hope you appreciate that."
John felt a warmth along his neck. He touched it, then held his fingers near his remaining good eye. Thick saucy blood!
"That's right," Hugh Stone said. "I've just made a little nick. If I wanted to kill you, you'd be dead by now. But I don't want you dead—yet. I want information. Where is she?" The gun hissed again, and acid seared John's skin.
Lost! Blue backed out of the dark underground garage on squealing tires, knocking a fender off against a pylon. She'd only been in this mall once or twice before. Could not remember which end Ajanian's was at. Upstairs. Must get to the upper level! Seconds, precious seconds, were ticking by, lost forever.
There! Stairs! She leapt from the car and raced through the darkness, her soles slapping on echoing concrete. And came to a barred grill. Locked out! The stairs to the upper level glimmered in moonlight like ironic smiling teeth.
Before Hugh could get another word out, John stomped his right foot down on Hugh's foot. There was a crackle of broken bone. Through blurred vision, John saw Hugh bend over double.
John turned to run, and fell on his back rubbing his eyes.
"You'll pay for this," Stone gasped. "I think you broke my foot. I'll slice your eyes out one by one."
John sprawled in the garden strip down the mall's middle. His eyes burned badly.
Hugh Stone was right behind him, crawling. "I don't really care about you, Mr. Connor. Or about your girlfriend. I want Vincent Brady, and Laurel knows where he is. She has to."
John scrambled up, started to run, fell again.
"I'm right behind you," Hugh Stone said.
Through blurry eyes, John saw the razor outstretched in Hugh's hand, caught the glint of mall lights on the razor's shiny surface, saw thick droplets of his own blood in the hazy light.
Stone rose to his feet limping badly. So I've at least evened the score, John thought.
Stone waved the razor and laughed. "I've got you. You can't get away. You'll scream, and nobody can hear you here. I'll hang your balls up someplace. When they find you…"
Blue drove off with a roar, door closing as an afterthought. Only hope left was to bull it through, drive like hell trying to find a way in. The mall loomed around her, big, black, wicked, foreboding.
John could only see, blurry, out of one eye. He heard Stone scraping on the ground. "Your eyes are gone, and now I'm going to carve up your face."
John's hand encountered something solid. He made out the edge of a little planted island of tropical ferns and ivy.
"Try to hide in there," Stone shouted.
John's hand touched loose rocks. River rocks from the San Diego river, worn smooth, with a sandy texture. He pried one loose and threw it. Stone held up his hand and deflected the rock. John pulled himself up along a tree trunk. With his trailing hand, he pulled loose another rock. He threw it toward a store window. The rock lost momentum and bounced off the heavy plate glass. Stone grunted heavily, pulling himself along, razor in one hand, broken foot dragging behind. John could almost feel Stone breathing up his ankles. The shuffling, crawling noise drew steadily nearer. John pried loose another rock. This time he hoisted himself higher and wound up before throwing. The rock sailed through the air and shattered the window of a clothing store. An alarm bell began to shrill.
Hugh Stone's fingers brushed John's leg.
John pulled away and threw another rock. And another. Windows began to shatter. Glass rained down all around. He staggered away from Hugh Stone, rolling six or seven feet away to the other side of the little island.
Blue brushed away tears. It couldn't end like this. Nooo…!!" she wailed. She spun the wheel and raced out into the parking lot. Turned the car in a 180 and squealed up the access ramp. To a locked, blank door. Another dead end.
She heard crashing, breaking glass. Alarms were going off somewhere far away. Jumping from the car, she stepped on a trash can. It sagged under her weight. Her free hand caught hold of a metal railing. She hoisted herself. Heard sounds of struggle.
Over the railing.
She was at the wrong end of the mall!
It would take minutes to run, but run she did, fast as she could. As she ran, she heard more crashing glass. She sprinted.
Water began to spray and splash. The sprinklers. John buried his face in them. Held his eyes open. Let the water wash the acid out. The night filled with sirens. Alarm bells were ringing. Johnno pulled himself away, but Hugh had hold of his ankle. Johnno threw another rock. Penetrated the window of a jewelry store. Another alarm went off. Hugh Stone had a firm grasp of John's ankle and pulled himself along. John's pants tore. The razor glinted. Stone hauled himself erect and staggered forward. He landed on top of John. The razor flashed. "Now!" Stone cried. Connor raised a hand to defend himself. Stone slashed it, threw splatters of thick red blood everywhere.
Blue ran as fast as she could. There! Oh God, Stone was on top of Johnno. Had him pinned. Had the razor up in the air, ready to pull through the sinews of Connor's throat. She ran. Too far to shoot accurately. Her teeth were bared. She ran as fast as she could, short of breath already, air coursing through her neck like fire.
Stone saw her.
Grinned at her. Madness flashed in his eyes.
The razor glittered, ripples of sadistic steel.
Connor had one hand upraised, eyes and mouth open in horror.
One more second and she would be close enough to kneel and aim. Dogs barked. Guards came running. Jeeps crashed through barriers. Too late!
She tripped. Fell. Skidded on her belly, wind knocked out of her. Stone's grinning face turned toward Connor, and the razor descended. John's blood splashed up in a fountain.
Blue fired.
Once, twice.
Copyright © 1996 by John Argo, Clocktower Books. All Rights Reserved.