Neon Blue (suspense) and This Shoal of Space (SF) by John Argo were the first two e-books ever published online for download, in the history of the world, 1996-7 in innovative weekly serial chapters. More info at the museum pages. If you enjoy this free read, which is offered in the spirit of the Golden Age of the World Wide Web, please consider buying a print or e-book edition as a way of thanking the author. A fine E-book is typically priced at the cost of a latte, yet offers many more hours of enjoyment than a cup of coffee. Thank you (John Argo).
---
About/Preface Chapter 1 2 3 4 5 6 7 8 9 10 11 12 13 14 15 16 17 18
19 20 21 22 23 24 25 26 27 28 29 30 31 32 33 34 35 36 37 38 39 40
41 42 43 44 45 46 47 48 49 50 51 52 53 54 55 56 57 58 59 60 61
---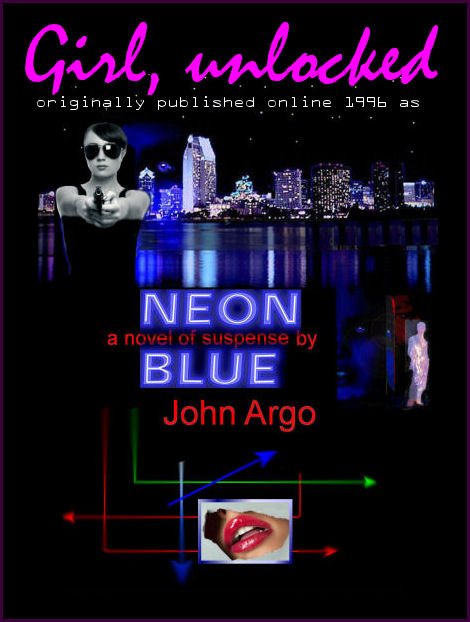 The mishap with Jana Andrews in La Jolla had scared the dickens out of Vincent Brady. What had flipped lovely Jana's switch? He still loved her, in some molecule of his soul, and maybe one day he'd try to approach her. But mostly he was scared.
He fled to Chicago, where he nervously checked his hoard at the First Mercantile Bank. His balance as Vincent Ulric of CompuGraphiX was $3,785,963.47. Wow, not bad at all.
He bought himself a brand-new Mercedes, beautiful job, glossy black with a white interior that smelled of new car smell, loaded with everything from quad stereo to air conditioning.
His apartment was a five room suite with two full baths, kitchen, sunken living room with giant TV screen and full stereo entertainment center, and a jacuzzi built into a sun porch overlooking the Loop. It five thousand dollars a month.
The building was an older brick high-rise, luxurious, with security doorman and video patrolled entrances. The hallways were richly carpeted and smelled of cleaning fluids. The atmosphere was posh and muffled. More than anything, it was very private.
A world-class city beckoned with all of its lusts and temptations. He was of the flesh, and the city was of the flesh, but his soul was with the Lord. He was a spy in the house of the Devil. He stopped into bar after bar and felt himself to be the equal of everyone he met, and then some. He bought drinks here and there, and found himself easily at the center of attention of small groups of people who appreciated his wit and charm. Time and again, women tried to attach themselves to him, but he resisted the temptation because he knew they were only bar flies and he was after the high-class hookers. He would have to build up new connections here. Virgie DeSanto and her outlaw types had been fun to party with in San Diego, but some instinct told Vincent not to try and contact her.
One night, he picked up a young woman with blond hair and a pretty face who could have been a sister of Virgie. Her name was Delilah or something. Vincent took Delilah home, plied her with a fine wine, and bedded her. Delilah fell asleep. Vincent had another two or three drinks which put him under.
In the middle of the night, Vincent woke with a terrible thirst. He staggered toward the kitchen and looked for orange juice. While he did so, shadows followed him along the walls. He screamed.
Delilah sat up in bed. "What is it, dude?"
Vincent saw her outline clearly on the wall. The Angel of Death moved with the breeze, her negligee blowing up. Vincent dropped the orange juice bottle. It shattered on the floor. He ran into the bedroom and threw himself across the bed. "You've got to get out of here," he cried.
"Relax, sweetie," Delilah said.
Vincent smothered her. "Get out while you can. Get out. She's after me."
"Who is after you?" Delilah demanded slipping on her jeans.
"The Angel of Death," Vincent said.
"Right," Delilah said. "I've heard it all before. Your old lady's on the elevator up."
"No," Vincent said. He fumbled in his wallet and found several twenties. He offered them. "Here, darling, take these. Get out of here. Don't let her find you here."
Delilah finished dressing and grasped the bills. "Get fucked, you crazy bastard. I was fast asleep."
"Go on," Vincent said, "quick, and God bless you."
"You're nuts," she said, with a scared expression as she let herself out of Vincent's pad as fast as she could.
Vincent knelt by the bed. The shadow standing there could only be one person. He pretended to be praying, all the while his breath was coming in frightened gasps. When he looked up, the shadow was still there. A mysterious wind was stirring the curtains and the shadow seemed to move closer, old and familiar.
"Mother," he said, "I know it's you. I haven't been bad. Honest, I haven't." The shadow stepped closer, the wind whispered in the curtains, and Vincent curled himself on the floor in a ball.
Copyright © 1996 by John Argo, Clocktower Books. All Rights Reserved.