Neon Blue (suspense) and This Shoal of Space (SF) by John Argo were the first two e-books ever published online for download, in the history of the world, 1996-7 in innovative weekly serial chapters. More info at the museum pages. If you enjoy this free read, which is offered in the spirit of the Golden Age of the World Wide Web, please consider buying a print or e-book edition as a way of thanking the author. A fine E-book is typically priced at the cost of a latte, yet offers many more hours of enjoyment than a cup of coffee. Thank you (John Argo).
---
About/Preface Chapter 1 2 3 4 5 6 7 8 9 10 11 12 13 14 15 16 17 18
19 20 21 22 23 24 25 26 27 28 29 30 31 32 33 34 35 36 37 38 39 40
41 42 43 44 45 46 47 48 49 50 51 52 53 54 55 56 57 58 59 60 61
---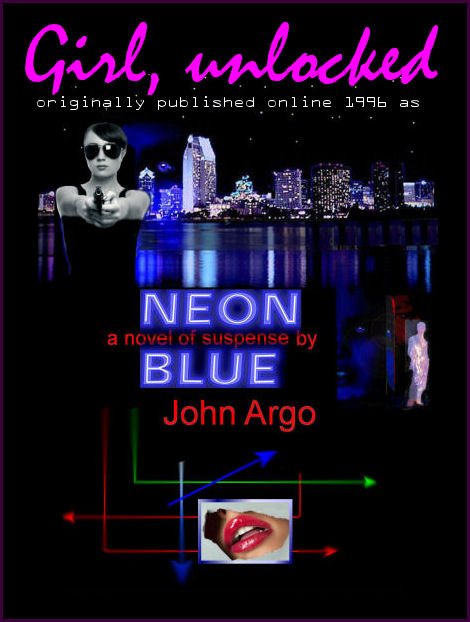 Vincent Brady sat in the dining room of the Park Plaza Hotel, eating one egg poached, three strips of bacon, and a sliced banana in light cream, when the waiter brought him the morning paper. "Mystery Woman in Murder Case Disappears!" the headline screamed. Chewing more slowly, soon not chewing at all, Vincent read the newspaper story several times. He left the paper on the seat, paid, and quickly left.
Collar up against the cold, Vincent cursed his bad judgment in getting involved with Jana Andrews. Something about her haunted him, and he could not say what. Now the game was nearly up. Vincent would have to move quickly. Because if Jana was alive, she would surely be coming back to Chicago. No matter how big the city, he would always have to look over his shoulder to see if the Angel of Death were coming after him with a knife again. Besides, Vincent had no doubt Hugh was after him, not just for the three million, but for his throat.
He stopped by to see Mr. Graham, who bounced up from his chair and pumped his hand. "Mr. Ulric. How nice to see you!"
"You are looking well," Vincent said. "I need to immediately cancel all my accounts here."
He thought for a second Graham was about to faint.
Copyright © 1996 by John Argo, Clocktower Books. All Rights Reserved.