Neon Blue (suspense) and This Shoal of Space (SF) by John Argo were the first two e-books ever published online for download, in the history of the world, 1996-7 in innovative weekly serial chapters. More info at the museum pages. If you enjoy this free read, which is offered in the spirit of the Golden Age of the World Wide Web, please consider buying a print or e-book edition as a way of thanking the author. A fine E-book is typically priced at the cost of a latte, yet offers many more hours of enjoyment than a cup of coffee. Thank you (John Argo).
---
About/Preface Chapter 1 2 3 4 5 6 7 8 9 10 11 12 13 14 15 16 17 18
19 20 21 22 23 24 25 26 27 28 29 30 31 32 33 34 35 36 37 38 39 40
41 42 43 44 45 46 47 48 49 50 51 52 53 54 55 56 57 58 59 60 61
---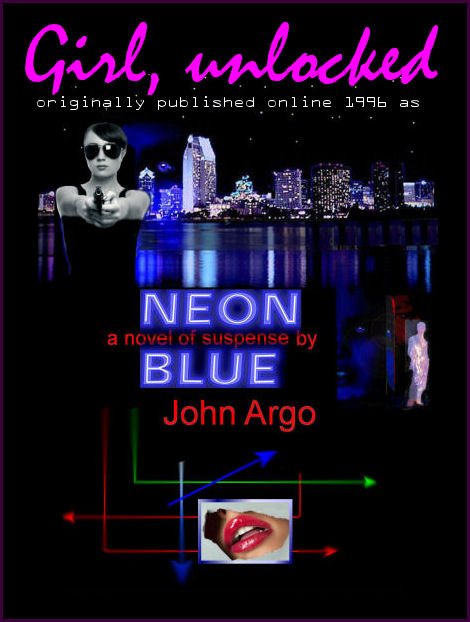 Martha Yee and Blue had lunch at a La Jolla gourmet French- style restaurant (with Mexican and Southern California undertones). It was Martha's day off, and she had asked Blue to go shopping with her. Their bright parcels were stacked in the trunk of Martha's car.
"Cold vichyssoise," Martha said. "Mm-mM." She spooned enthusiastically.
Blue munched on a chef salad with walnuts, chicken bits, and creamy Italian dressing. "I'm not so crazy about onions," she said.
"You're the fast food type, I take it."
"Only in emergencies. I've been back on my workout schedule. Jog five miles a day, work out on the beach, practice my katas."
"How is Mr. Wonderful?"
Blue reddened. "Pretty wonderful."
"That's nice," Martha said pleasantly, enigmatically, spooning soup.
"I suppose you think I'm a fool."
"If it itches, scratch it."
"Oh Martha."
"No, I mean it, he's a doll. Most women probably don't get to base one with him." Blue shrugged and took a long sip of her lemon-lime fizz. Martha added, "If it ends, it ends. Enjoy it while it lasts. Make sure he's not using you. You know men."
"I had forgotten."
"You are the girl next door, when you dress nice and aren't punk. I kind of envy Mr. Connor. You make a lovely couple."
Blue felt her cheeks burning. "Martha, it's not that hot and heavy yet."
Martha made a wry face. "I think I know you by now, maybe better than you know yourself. You wonder about yourself. I don't think you belong in my world. Go for it, if it isn't him it's some guy like him you're meant to fall in love with."
Copyright © 1996 by John Argo, Clocktower Books. All Rights Reserved.