Neon Blue (suspense) and This Shoal of Space (SF) by John Argo were the first two e-books ever published online for download, in the history of the world, 1996-7 in innovative weekly serial chapters. More info at the museum pages. If you enjoy this free read, which is offered in the spirit of the Golden Age of the World Wide Web, please consider buying a print or e-book edition as a way of thanking the author. A fine E-book is typically priced at the cost of a latte, yet offers many more hours of enjoyment than a cup of coffee. Thank you (John Argo).
---
About/Preface Chapter 1 2 3 4 5 6 7 8 9 10 11 12 13 14 15 16 17 18
19 20 21 22 23 24 25 26 27 28 29 30 31 32 33 34 35 36 37 38 39 40
41 42 43 44 45 46 47 48 49 50 51 52 53 54 55 56 57 58 59 60 61
---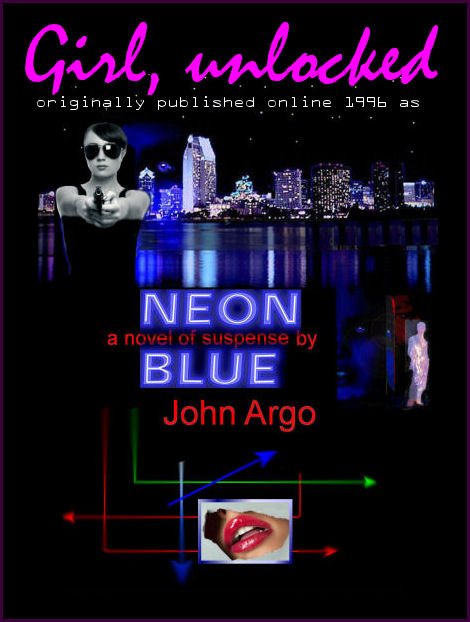 John Connor bought fresh vegetables and a small rump roast at the excellent corner market. As he stood in line, waiting to pay, listening to the banter between shop owners and their customers, he reflected that he'd noticed Blue and Martha Yee being chummy. Marcia Jersey's words echoed in his mind. It couldn't be, he thought. Not again. Please, not Blue.
As John entered the house, Fontainebleau met him and rubbed against his leg with a baby-like aww-ll, the raspy meow of the Siamese feline. "Yes, how do you do too?" John said. In the kitchen, Fontainebleau continued rubbing against his ankles while John put his paper sacks down on the counter. "Yes, you're going to meet Laurel. I think you'll like her."
Fontainebleauís rubbing increased when he heard the electric can opener. "Yes, and Laurel will probably like you, although you will be jealous if she and I pay too much attention to each other." He spooned fresh tuna into a small china dish, which he placed near the water cooler. "That's a good kitty."
Aww-ll, Fontainebleau reiterated and hunched over his dish.
John turned on the stereo to light jazz. "And if she's lonely, you and I will cheer her up, won't we?" The house filled with cooking aromas. Dusk dripped indigo ink down steamy windows.
Copyright © 1996 by John Argo, Clocktower Books. All Rights Reserved.