Neon Blue (suspense) and This Shoal of Space (SF) by John Argo were the first two e-books ever published online for download, in the history of the world, 1996-7 in innovative weekly serial chapters. More info at the museum pages. If you enjoy this free read, which is offered in the spirit of the Golden Age of the World Wide Web, please consider buying a print or e-book edition as a way of thanking the author. A fine E-book is typically priced at the cost of a latte, yet offers many more hours of enjoyment than a cup of coffee. Thank you (John Argo).
---
About/Preface Chapter 1 2 3 4 5 6 7 8 9 10 11 12 13 14 15 16 17 18
19 20 21 22 23 24 25 26 27 28 29 30 31 32 33 34 35 36 37 38 39 40
41 42 43 44 45 46 47 48 49 50 51 52 53 54 55 56 57 58 59 60 61
---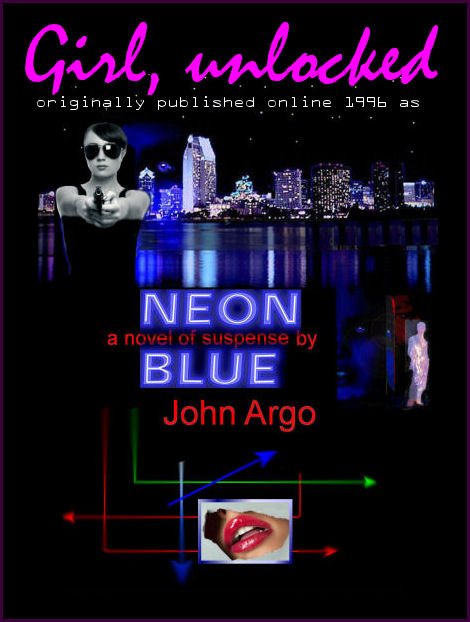 Blue climbed the littered stairs from the subway up to the street, enjoying a rush of rubbery smelling warm air from below. Then she stepped into fresh, icy street air, the familiar traffic noises of her neighborhood: passing car, distant horn, slammed door. The wind pinpricked her cheeks with hints of new snow as she crossed the street and trudged past dark, silent doorsteps. In the brightly lit entrance of her apartment building, she checked her mail box. Nothing. She climbed the stairs, for the elevator was, as always, broken. A window slammed. A bag of trash sort of missed the dumpster in the central courtyard with shattering glass. Blue went two steps at a time on the last two landings. She extricated her apartment key, which she kept pinned inside her jacket.
Light shone under the door, and the Grundigs oozed out a symphony. Mozart? she wasn't sure, and it didn't matter; she always left the stereo to make burglars think someone was home. Luckily, no burglar had bothered yet. What was there to steal? Some inexpensive but colorful Remington reproductions on the walls, which she loved, showing wild horses kicking and galloping and running free on the prairies of North America.
She unlocked the door. The warmth of her apartment, her home, met her with a welcome glow. She kicked the door shut behind her. "Hello, kitchen. Hello, refrigerator." As if in answer, the refrigerator shook once, twice, and rumbled into life.
Mozart rocked on in the bedroom, wave upon wave of violins, violas, and oboes over the bass-rich speakers.
She piled clothes on a chair. Kicked shoes off.
"Hello, music. Hello, old tea kettle." She touched the kettle. "Ouch!"
Waved her finger, pulling a tea cup out of the cupboard.
Tossed in a bag of Lipton's.
Spoon of sugar.
Poured from the kettle.
Set the tea aside to steep.
Felt something against her leg.
"Hello, Fontainebleau." She bent down and rubbed his ear.
As cats did, he winced away, but purred enthusiastically.
"Hi, I'm home!" she called.
In the bedroom, John looked up from a book. He turned down the stereo. She captured a mental snapshot of him as he had been the moment she entered: Unaware of her, absorbed in the book; stretched on her bed among the stuffed animals, a sheet pulled up over his muscular, lean body; concentrating; reading glasses (a secret only newly revealed) making him look older, bookish; hair tousled; foamed neck brace making his face look scrunched because his head was up on the Garfield pillow. "I didn't hear you come in," he said, putting the book aside. "It's about a million degrees in here." He stretched out his arms.
She sat on the edge of the bed, let him growl and bear hug her. "It's always a million degrees in here."
He pulled her close.
Unbuttoned her shirt.
She drew in a tight, delicious quick breath as he bit her earlobe. She murmured "MMMmmm…" appreciatively.
"You smell cold. Like fresh air." He kissed her pointing nipples. "Cold."
He lifted the sheet, and she climbed underneath. He said: "Fontainebleau seems happy" as the cat sat squinting happily in the doorway. "He's purring."
She said: "I think he misses his canyon, but I think he'll enjoy being a city house cat for a while." She kicked the jeans away and pressed closed to Johnno. She rested one hand on his shoulder while the other hand explored the stored warmth of his body.
He wore, she quickly discovered, nothing at all.
He kissed her cheek, her nose, her lips. "I want to be part of your world, Blue. I want to stay in your life."
She cleared her throat. "Well, you can stay as long as you like." The boxes were still there, after all, because that was who she was, how she was, but the padlocks seemed to all be open and strewn about, and it didn't look like they were going to be used again any time soon. She lost control, after all this time, finally. And so did he.
Fontainebleau looked on approvingly as Blue and Johnno clinched steamily and couldn't get enough of holding each other, kissing passionately, each struggling to grab hold of more and more of the other, as if they wanted to blend into unity.
With a shared cry of desire, they threw themselves at each other in the bed, pulling the sheets in all directions. She rolled onto her back, like in Brazilian jiu-jitsu, but she wasn't going to make him unconscious. She surrendered, her entire heart and soul, as he loomed over her, stallion yet captive. He pinned her wrists behind her head as he mounted to take her on the climb to paradise. She let him; she cried out with him; she almost bawled with total desire and wetness as he took her in mutual surrender and the storm which, it seemed, she had been awaiting all of her life.
If this moment were captured as a painting, in some dreamy half-light with blurry motion—like the wild-eyed, kicking and galloping horses in those paintings—and dappled sunshine in a murky bedroom, it might be titled:
Girl, unlocked.
At last.
Copyright © 1996 by John Argo, Clocktower Books. All Rights Reserved.