Neon Blue (suspense) and This Shoal of Space (SF) by John Argo were the first two e-books ever published online for download, in the history of the world, 1996-7 in innovative weekly serial chapters. More info at the museum pages. If you enjoy this free read, which is offered in the spirit of the Golden Age of the World Wide Web, please consider buying a print or e-book edition as a way of thanking the author. A fine E-book is typically priced at the cost of a latte, yet offers many more hours of enjoyment than a cup of coffee. Thank you (John Argo).
---
About/Preface Chapter 1 2 3 4 5 6 7 8 9 10 11 12 13 14 15 16 17 18
19 20 21 22 23 24 25 26 27 28 29 30 31 32 33 34 35 36 37 38 39 40
41 42 43 44 45 46 47 48 49 50 51 52 53 54 55 56 57 58 59 60 61
---
Chapter 41. Palm Springs & San Diego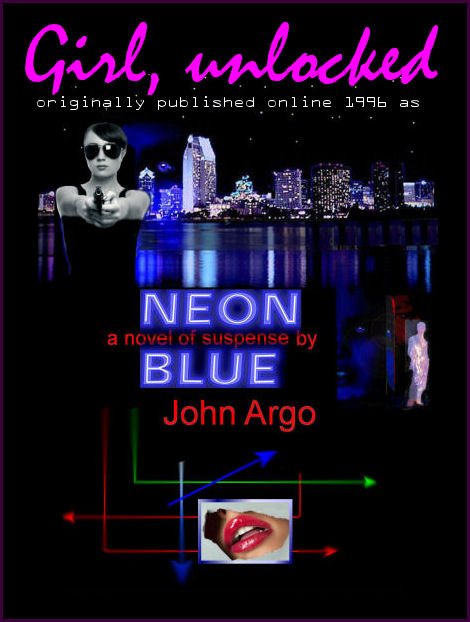 Hugh Stone found things relatively unchanged at his home in Palm Springs. On the surface, everything seemed calm and orderly. The interweaving sprinklers on his front lawn lent the sprawling estate the effect of a park with fountains. Gardeners were busy about the roses, and landscapers on tractor-mowers rode about trimming the side lawns. On the periphery, his several full-time guards maintained slow but thorough security rounds.
Hugh had just flown in from the East Coast and his head was abuzz with desperate last-minute ideas about how to raise the three million in cash. LeSable was after him, pressing him. Hugh knew the score. LeSable was history unless a miracle happened. And Hugh had no heart for miracles. Now it was every man for himself. The Alvaros were going to waste Pierre; and then they would come for him. Now it was a matter of survival.
The manufacturing plant was totally leveraged. Nothing more to be wrung out of that turnip. His desperation was humiliating. The trip to Connecticut had been wasted. Perhaps he could smoke Vincent out in San Diego. And that young woman—Laurel Humboldt; she might prove to be the key, since the police were undoubtedly hot on Vincent's trail; so if he could get to her… he'd square Pierre away and get the Alvaros off their backs. Then he could sell the drugs, get rid of Vincent, and get himself out of hock.
When he walked through the front door he found his daughter Astrid waiting for him in her night gown holding a cigarette. "Daddy," her sharp voice made piercing echoes in the huge foyer, "Mummy kept calling out for you all night."
Hugh attempted to kiss her as he rushed by. "Honey, I'm—"
She grasped his sleeve with her free hand and let herself be towed along for several feet before he stopped. "What, Daddy? You're busy? Are you ever not busy?"
"Your hair is a mess, Astrid. Were you out all night?"
"No!" she shrieked, her voice cracking. Her eyes glared at him blackishly, from a mixture of mascara and bags. "Will you wait just once? Mother was in a delirium last night. I had to call Dr. Thompson, and he gave her medicine, but he said she has to go into rehab again right away or her health will fail completely. He needs your signature."
"All right," Hugh said. "Let me put my briefcase in the office and I'll go in to see her." He began to notice again how thin Astrid was. He had a sneaking suspicion, which he dared not voice right now for fear of amusing the staff, that she had been to her diet doctor again. She reached angrily for the briefcase. "Here, I'll take the goddamn thing."
He pulled it away from her. She looked cheap, holding her cigarette up that way. They confronted each other silently, while two Vietnamese women in black maids' uniforms hurried away. He knocked the cigarette out of her hand. She stormed off holding her gown against her thighs.
Leaving the briefcase in his office, he lit a cigar. He locked the office behind him and went to his wife's room. He found her looking wasted and pale, propped among pillows to prevent her falling out of bed. She was sleeping when he opened the door. He regarded her a few minutes, trying to fathom how he felt about this marriage any more. He could get Margaret into a home where she would get excellent care and perhaps dry out enough to be coherent. They'd not spoken coherently in years.
Hugh studied the marble-like skin, the leathery features, and withdrew, closing the door in silent revulsion.
He heard a crash downstairs. He heard the splintering of glass, and then Astrid's shrill screams of fury. Hugh went to his office and called Dr. Thompson to have Marga admitted.
He stopped on an upper landing, looking through a leaded- glass window. He saw Astrid's Ferrari roaring, fish-tailing, away leaving dust drifting over the drive. Poor crazy thing.
A sobbing Vietnamese girl was on her knees, cleaning up a broken crystal vase and spilled chrysanthemums. He stopped, patted her shoulder, and gave her two twenties from his pocket. She wiped her tears and rose, curtseying. She thanked him, but there was dark resentment in her eyes. He didn't blame her.
He got into his car and headed for town. He gave his lawyer limited power of attorney to sign the papers about Marga. By nightfall, he was on a plane bound for San Diego.
That evening, Hugh had dinner at the Radisson, where he had booked a suite. Then he stepped out into the mellow evening and lit a cigar. From a phone booth he called LeSable. "Hugh, what the hell you think you are doing?"
"Keep Garth out of my hair. I don't need him. He's not trustworthy. And you suprise me. Like an old woman."
"You are a fool."
"I get the job done."
"You don't have the money, that's what I got to explain to these people, and they are pissed. I don't think they will let you run the show like we planned. You are too crazy. You killed a cop, and for what? Even Garth has purpose when he kills."
"Just hang in there a while longer, LeSable."
In the morning, Hugh checked the phone books. There were several Vincent Bradys, and he copied down the addresses and phone numbers. He bought himself breakfast at a fast food restaurant. He ate while driving. One by one he checked them out. And became angrier. The first was a retired Navy commander in a wheelchair in Poway. The second was the fortyish owner of a swimming pool store in La Mesa, no match at all for the Vincent that Hugh would know instantly on sight. The third was a long-haired taxi driver who worked nights and was angry to be disturbed during his daytime sleeping hours. The fourth Vincent Brady was a black insurance agent in National City. Finally he tricked a bank employee into inadvertently revealing the address of the Vincent Brady property he was after, in La Jolla. He drove there, parked a block away, and walked past. The place was dark and shuttered; nobody had been here in days. Across the street in a car were two men eating ice cream. They had not noticed him. Good. He went back to his car.
Eating dinner at a restaurant, he read the newspaper, and an article caught his eye:
SAN DIEGO (AP) —Police are still puzzled by the stabbing and bludgeoning of a well-dressed woman at an expensive condominium complex. A large amount of cocaine was found at the scene, leading police to suspect she may have been part of a drug deal gone sour. The as yet unidentified woman remains in critical condition at University Hospital. Police are looking for a middle-aged man who rented the condo for the weekend and then disappeared without a trace. Witnesses at the condo complex described the man as charming, gregarious, and attractive. An informed source indicated the man is wanted in connection with a Drug Enforcement Administration (DEA) investigation… Hugh read on, and as he did so, a picture of Vincent sprang to his mind. The woman sounded like someone he knew. After some puzzling, he remembered meeting a woman like that. But where? His birthday party! Jane…Jana… what was it? Andrews! And Vincent had been proud of getting her phone number. And all this in San Diego. Perhaps, Hugh thought, my quarry is closer than I think.
Copyright © 1996 by John Argo, Clocktower Books. All Rights Reserved.